How do I choose the right wedding photographer?
In a perfect world your photographer would tell a story of how you and your fiancé got to know each other - your love story.
You can't turn back the clock but you can make up lost time with an engagement photo session. It gives you the chance to capture your story between now and the big day - something you will find priceless in years to come. What's more you have images which you can potentially use in wedding invitations, a guest book or even a dazzling wedding slideshow on the day.
It's also the perfect opportunity to check out your chemistry with a potential photographer - you want someone who can work with you to make you feel relaxed (perhaps overcome camera shyness which many people experience), experiment and deliver the style you want. Go with your gut feeling. Importantly, a company like WeddingPixels has the confidence to allow you to walk away with no obligation if that chemistry is not there!
Second tip, know what you want - traditional, edgy... something else? We, photographers are visual artists, commissioned to tell your story. And we each have our own style - WeddingPixels is unashamedly contemporary: led with influences from a background in the glamorous world of fashion photography.
Third, book early! Gifted wedding photographers get commissioned fast. This is especially important for weddings abroad where you want complete confidence in the photographer you take with you, and second best simply won't do.
Fourth, and this is a critical piece of advice: understand what you are being offered.
Wedding Pixels are all-inclusive. We spend time to build a rapport with you before the wedding, take the photos themselves and then conduct extensive post-production work to deliver you the finest quality pictures using the best materials that will last for decades. You could say we don't take photographs, we make them. And our expertise from the fashion industry will shine through.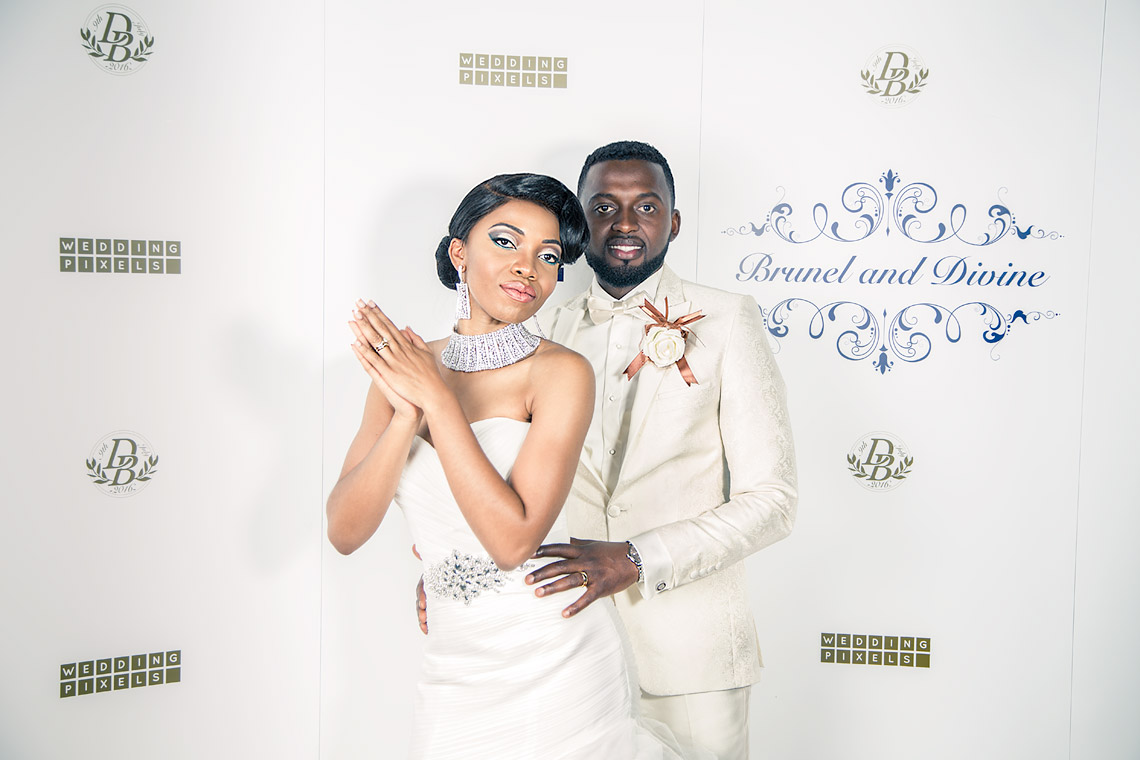 Red carpet photography and custom designed photo wall - my premium service.
Karl Lagerfeld (the head designer and creative director of the fashion house Chanel, fashion designer, artist, and photographer) said "What I like about photographs is that they capture a moment that's gone forever, impossible to reproduce."
I believe this is a very good reason to find the right photographer for your wedding.
Spray and pray kind of shooters
Some photographers are known in the trade as 'spray-n-pray' (for good results) or 'shoot-n-burn': they turn up, take the pics, dump (burn) them on a memory stick or DVD. Or worse get them printed cheaply at a supermarket kiosk. These will start to fade after two or three years. What's the point in that? There is no editing, no shot selection, no enhancement, no albums or canvas prints.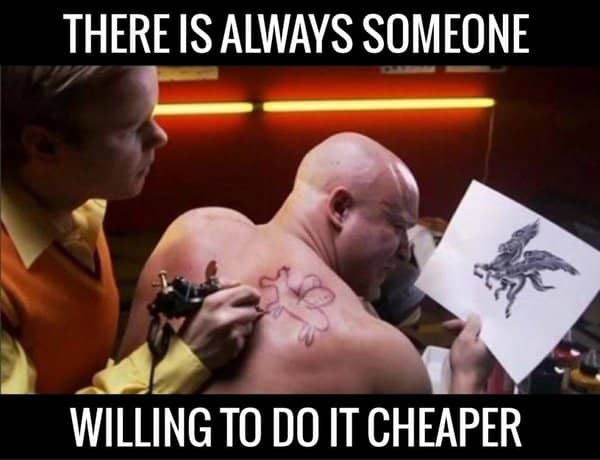 One final point. Finding the right wedding photographer can be more than just about your special day itself. Your wedding is just the start of a wonderful life with your partner - so many future moments to be cherished. What a bonus if you know you have a family photographer you can rely upon to capture those special occasions on film forever.
FAQ
What is the price for your services?
I offer an end-to-end service as wedding and engagement packages, including: a hand-made album, fine art prints and wall decors, a custom iPhone app, an online photo gallery and much more.
We are pleased to be able to accept a variety of payment options for your convenience, to help you get what you really want and eliminate compromise. Prices starts from £500 for an á la carte option, where you commission us on a time basis and choose later how you want to process and print images.
Do we pay a deposit?
The short answer is: Yes. In order to provide the highest quality of wedding photography and customer service, I book only 30 weddings a year. This way I can go beyond expectations. I also offer a free consultation. This helps us get to know each other, lets us explore how you imagine your wedding and finally helps you decide whether I am the right photographer for your needs. If so, you may choose from the packages or an á la carte option and a non-refundable booking fee is then required to secure your wedding date.
I want to make booking your wedding as easy as possible which is why I offer flexible payment options.
When you book early, you can choose to pay a deposit from £200 upfront and the rest of the balance later on. In Wedding Pixels we give our customers the option to spread the cost with an initial deposit and then recurring monthly payments, up until 30 days before the big day. More about pricing.
What is your early booking discount?
Most couples book dates a year in advance, but it's not unusual to book as far as 18 months in advance. The more important and significant your wedding is to you, the more you will wish to prepare. You start looking for a venue place and a wedding dress long before the wedding and this is also the right time to choose your photographer.
Early booking may help to prepare your special day. Finding the right time slots for formal portraits and group shots, arranging a bridal photo session and engagement session is important if you value photography and high quality images.
To encourage couples to book early, I reduce the booking fee for all wedding packages by £50. This applies to early bookings only (12 months before your big day or more) and starts from £200.
What is the trial photo session and engagement session?
It is not uncommon to book your makeup artist for a trial makeup session. It's important for the bride to look beautiful on her wedding and to feel comfortable in her bridal makeup. A lot depends on this, including wedding photographs. I highly recommend it.
So if you are keen to test out your makeup artist why not also to challenge your photographer? I am up to this challenge. Why so? Let me explain…
A trial photo session booked in advance is a good way to properly break the ice with your photographer. For me it's also an opportunity to guide you in how best to act in front of the camera to look like professional models: confident and relaxed rather than scared and stressed. Trust me, on your wedding day you will be grateful for the investment in trial shots.
I can arrange your trial photo session as an engagement photo session. This gives you the opportunity to use these photographs in your invitations and guest book. It all depends if we have time to do that of course, which is why it's so important to book your wedding photographer in advance.
What is the difference between á la carte and the packages?
In the case of á la carte options you pay as you go and benefit from a freedom of choice. It's up to you when you pay for prints, what size and how many.
In the case of our packages you'll get a pre-selected bundle from the á la carte list with generous discounts included. This may include:
A private online gallery and lifetime backup plan
Prints and wall decors
YouTube slideshow
Social media postings (FB, Instagram, etc.)
Bonuses (such as extra hours of coverage)
Discounts for prints and other services
Can I change my mind on the package I want later?
No matter which package you choose, you can always upgrade later.
I am always happy to work with a couple who resonate with my work. To find out, I offer complimentary engagement photo sessions for whole day wedding packages, and generous discounts on them for á la carte options.
Photographers are like any other artists. Some people like R'n'B or Hip-Hop, other's preference would be Rock or Heavy Metal. I can adopt to different needs - up to a point. This is why it is so useful to have a consultation where we can walk through my portfolio and discuss which photographs you like. There are a lot of things that can be done in post-production too, so it is possible to satisfy the individual tastes of you and your partner. A free consultation allows us to discuss all the possible options.
What is your image style?
I would like to answer this question during our free pre-wedding consultation, when I could show you some real products - prints and albums, because choosing an image style is too important. To take it seriously, please expand this topic to find out more about image style or book your consultation now. Or take a look at the following examples of different styles. It's just a small sample of what I can provide.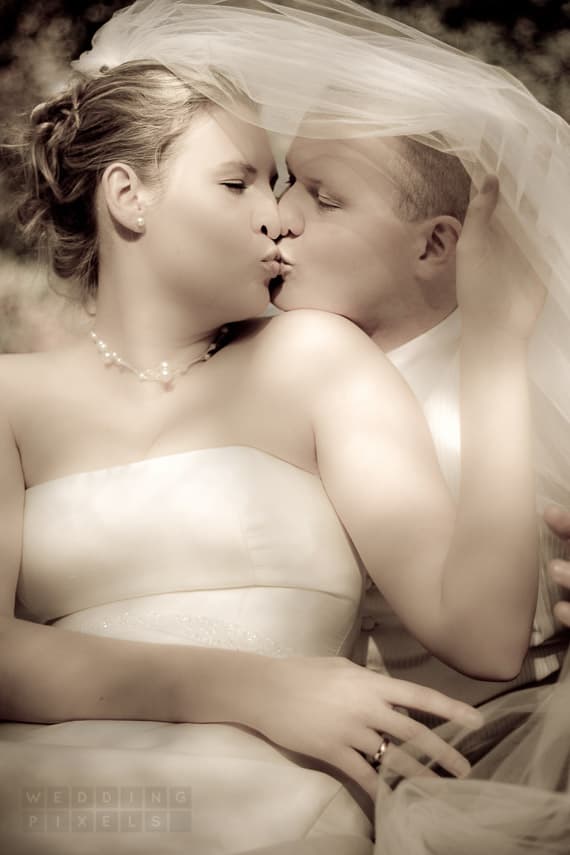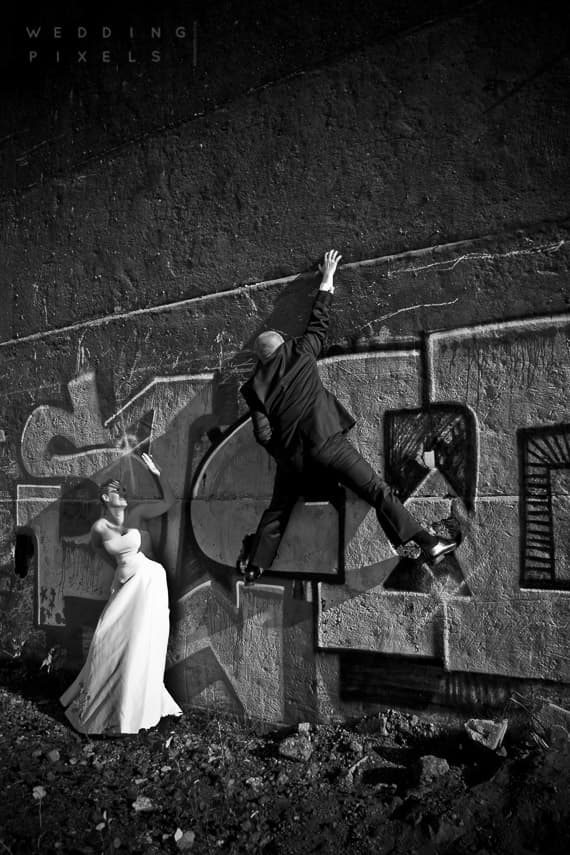 The same couple, different images. This bridal session was a riot! The couple had so much fun, but first we made something more traditional for mum!
Sometimes one photography style is not sufficient – a non-intrusive photojournalistic style with natural light is the best choice for ceremony, while on the bridal photo session something more sophisticated is necessary. Please check out this case study for more details.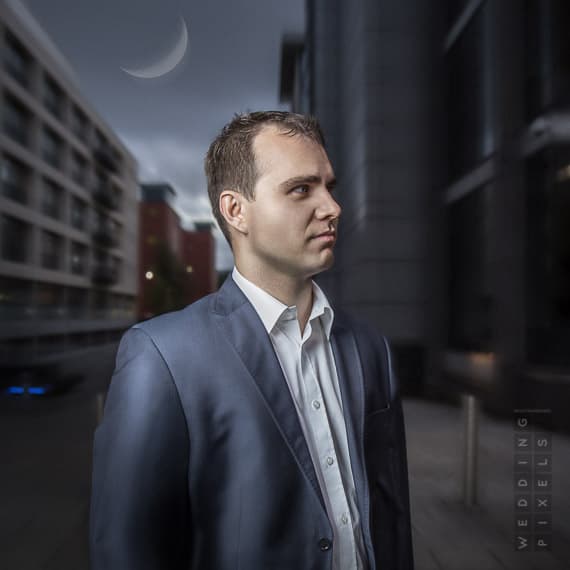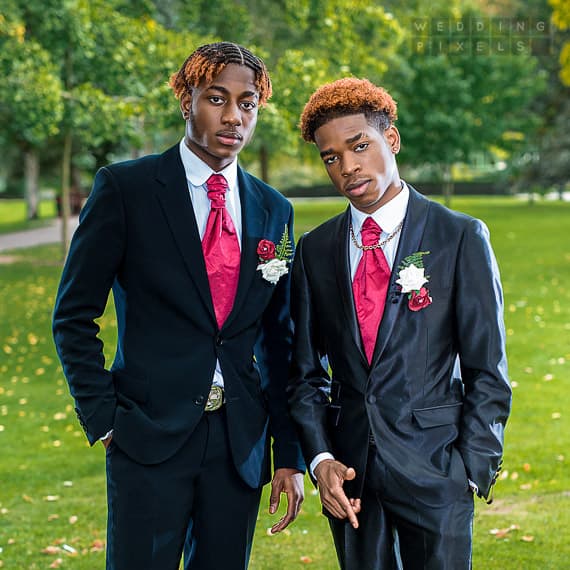 The black and white, and sepia images are natural light photographs and they look nice, but these two colour images without strobes would be dull and boring. Please visit my image styles page to find out more or book now your free consultation.