Amateur vs. Pro: Why I Am Paranoid about Backups
Imagine your own wedding. You pay, your photographers turns up with a smile, takes all the key shots and disappears back to their studio.
You shoot off on honeymoon. When you get back, you're looking forward to seeing your pack of lovely wedding photos. But your photographer's phone always goes straight to voicemail. Or they don't return your texts. Clearly, something has gone badly wrong.
It has. Your photographer didn't do backups. And now they've lost their laptop. You will never be able to look back at the shots of your wedding as you get older. This was the once-in-a-lifetime event that never happened.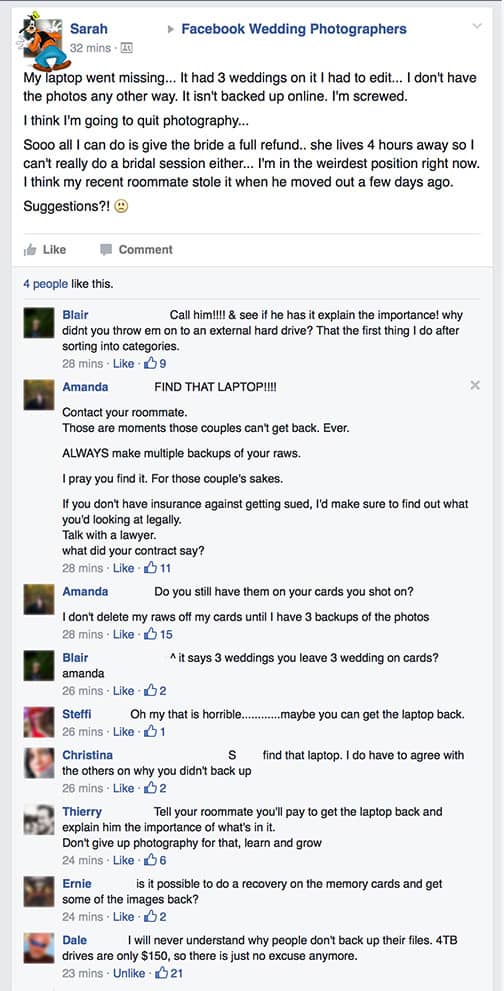 The case of Sarah
Some time back, I came across just such a case. A wedding photographer on Facebook called Sarah. She had the shots from three weddings on her laptop. The laptop had gone missing. Sarah had no backup.
Sarah was considering giving up photography. I think I would too in that position. But I don't think it will happen, because I'm paranoid about backups so that my clients won't ever have to worry about it.
I use only high-quality memory cards on location. Not one big card, but plural: cards. That way, if something goes wrong, I won't lose all the photographs. I switch cards during the wedding day, between important moments, so the ceremony is secure when I'm in the park with the bride and groom.
Never run out of space
Later, during the reception, I use another memory cards. That way, I'm also sure I'll never run out of space and can shoot without worrying that I'll miss a shot while switching memory cards. I make backups on my laptop as well.
When the wedding is over, I copy all the data to the NAS drive. It's my network-attached storage system with redundant hard drives. If something happens to one hard drive, there's always a copy on the other one and I can safely replace the broken one without losing any data. I can also easily add more disks if needed. This server is running 24/7 and I can access my data from anywhere.
Preserving memories like a pro
Yes, it's an expensive solution, but it's much cheaper than dispute over lost images and ruined reputation, plus I don't have to worry about missing photographs. Once I've backed up files on my NAS, I import all my files to my Mac Pro workstation and, after formal selection, I send them to the cloud. This way, all important files are secured (forever).
Before I format my memory cards for the next job, I make another copy of RAW files on the external hard drive at work, so I have three separate copies of RAW files, two at home (NAS and workstation) and the third in my studio. I never delete files or format memory cards before I make a third backup at work. Including Cloud, it's 4 backups, 3 different secure locations and 2 copies of work in progress. All copies are encrypted with Apple technology.
Work in progress backups and more
I make daily backups of my entire hard drive on my workstation and hourly backups of my Pictures folder, so any progress with image processing is preserved. Even though I use an SSD drive without mechanical elements, the backup is important to me. I don't want to lose any progress. I just can't afford that. A few hours of retouching is worth more than a brand-new HDD.
Once I finish retouching, I export all the photographs to the Cloud and automatically synchronise with my iMac, MacBook Pro, iPad and iPhone. Then I publish individual photographs to different social media. Sometimes I publish straight away, picture after picture.
When all the retouching is done, I print selected photographs, and design the album and custom iPhone mobile application. Once the iPhone app is released, I announce this in social media and export all photographs to publish in my online gallery so friends and family can print this as well. It takes time, but it's worth the wait.
Amateurs and pros
What's the difference between an amateur and a professional photographer? The professional photographer has failed more times than an amateur has ever tried.
I've been in the photography business long enough to remember film cameras. We didn't have too much choice at the time. We could develop films in a lab, trusting that people employed there would do their best, or develop by ourselves. In both cases, something could go wrong and we could lose negatives. In the digital era, we have a better chance to do this right. There is no excuse.
Redundancy beyond a backup plan
So, you can see that being professional goes way further than mere picture quality. This article covers just one aspect of being a professional photographer. But I take my professionalism further. I have a spare camera body and redundant lenses, several flashguns and even second shooter. Most of the time, I don't have to use that extra gear, but one day I may need it.
Here's a video illustration of why it pays to make backups as I go along:

To help you choose the best wedding photographer, I've put together some FAQs and a guide on how to choose the right photographer. Pop over and take a look: weddingpixels.co.uk or call me to discuss your wedding backup plan: 0117 2140670